Tomica Heroes
& Heroines
Tomica Hero Rescue Force (トミカヒーロー レスキューフォース
)
is a Japanese Tokusatsu series that started on 5 April 2008. It is the latest attempt by TakaraTomy to expand on its toy car line. The characters in the show uses special Tomica vehicles and power equipment to help save people from all sorts of disasters. From this, TakaraTomy will be expecting to reap in huge revenues from the sales of extensive show merchandise. Nintendo had just released the DS game for it and there is even a proper soundtrack release on 24 September 2008 by Avex.
RFT-05 Rescue Striker
The show is just too kiddy for me and most of the rescue cars are from existing models with minor changes like slapping on a Rescue Team Livery or a Police Light etc. However, I will still look at some of their new castings although a few are poorly detailed and can even look like a smudge of painted clay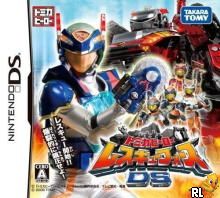 Nintendo DS Game
12 December 2008 Event @ Ario Otori
There is an upcoming event which will feature the song artist Camino (they did the opening theme "Story") but more importantly it seems to indicate the appearance of the fifth team member R5! If you want to find out more about the show, you can visit the official fan
site
which contains a lot more information.